Sarcasmics
biography
A band of two, self-recorded fiends.
1

June 20th, 2011 + 12:06 PM
·

Sarcasmics
Just a quick link to all our uploaded songs for this album:
http://www.reverbnation.com/thesarcasmics
Since I've moved to Japan and didn't bring any of my equipment with me, unless I start doing purely electronica, I'm done
recording or producing
for about a year or so.
...I'll probably just wind up uploading the remainder of the Outlaws and Engines album here for a good tearing into...
7

June 25th, 2011 + 3:06 PM
·

Sarcasmics
8

June 20th, 2011 + 11:06 AM
·

Sarcasmics
We just finished our self-recorded album "Outlaws and Engines" and haven't had time to post anything because, just days after, I had to move my life to Japan.

This is last song of the album (the first being "The Outlaw") and was a close call at being that... because of the time crunch we had roughly 2 days to write and record this song [craziness ensued as I was also moving things out of my place]. As well, due to this limited time frame, I had to record all the instruments myself =/

If anyone wants, I can detail how everything was tracked and everything done post and pre.
4

February 5th, 2011 + 12:02 AM
·

Sarcasmics
A fun improv diddy. Inspired by a mutual friend (has cameo at end).
3

February 3rd, 2011 + 11:02 PM
·

Sarcasmics
Another same day track and mix. Working and planning songs is not my forte.

This song was recorded in my room with 2 XY stereo (cheap and unmatched to my dismay) half way across the room lining down the bass drum and snare, with a MXL 992 on the acoustic in the corner of the room, and a SM57 on the guitar amp.

Any questions? Please tear this one up! We're rewriting and, since I just moved, setting up a new and improved studio to record in. New (and hopefully final version) coming later.
11

February 3rd, 2011 + 1:02 AM
·

Sarcasmics
This is the first song in a new project we're working on. Surprisingly, this whole song was written in C because we had found a C harmonica earlier that day. ... so this whole song was written for the harmonica initally.

All parts were tracked. There are no softsynths in this song.
Alias:
Sarcasmics
Status: Offline
Threads:
6
Posts:
22
Songs:
6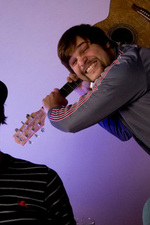 Joined: February 02nd, 2011
Last login: October 28th, 2011